Organisation
Who leads ICA?
ICA is governed by the ICA General Assembly which comprises one representative from each ICA member institution. The ICA General Assembly elects the ICA Board, who are senior members in the life science community. The modus operandi of ICA is determined by the ICA Statutes.
These Board members play a key role in developing the policies of their own universities and faculties. With this overview they are able to focus the activities and planned outcomes of ICA to support the staff of the ICA member institutions in their professional careers. The Board reports to the annual meeting of the ICA General Assembly.
ICA links eight ICA Standing Committees under the umbrella of the ICA Council. The ICA Standing Committees have either a discipline or cross discipline support focus. The ICA Council acts as a forum to support networking and the initiation of new ventures between Standing Committees and ICA
The ICA Secretariat, is responsible for implementing the policy decisions of the ICA Board and for the day to day management of ICA.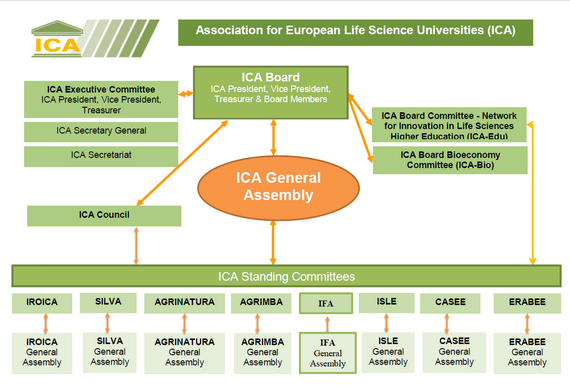 See the ICA Member Institutions