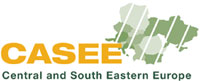 The ICA Regional Organiszation for Central and South Eastern Europe
The CASEE Network was founded in 2010 upon the initiative of the University of Natural Resources and Life Sciences, Vienna, and involves Life Science Universities in Bulgaria, the CzechRepublic, Croatia, Hungary, Poland, Romania, Slovenia, Slovakia, Serbia, Ukraine and Austria.
The aims of the network are:
to support the development (and later implementation) of the EU Strategy for the Danube region
to strengthen research, education and University Development in this region
to develop joint research, educational and other projects (e.g. joint curricula, joint continuous educational offers, structural development, human resource development, QA, know-how-transfer, e.g. via an e-platform…)
Overview on CASEE activities:
Conferences
An e-platform for project partner / thesis topic and supervisor search, information on summer schools, etc.
Lukáš Pospíšil
CASEE General Secretary
Head of International Relations Office
Czech University of Life Sciences Prague
Kamycka 129,
165 00 Praha Suchdol
Czech Republic
e-mail: This email address is being protected from spambots. You need JavaScript enabled to view it.; This email address is being protected from spambots. You need JavaScript enabled to view it.
phone: +420 224 382 275
http://ica-casee.eu/